New year is around the corner which is coming in less than a month!
Wall Calendar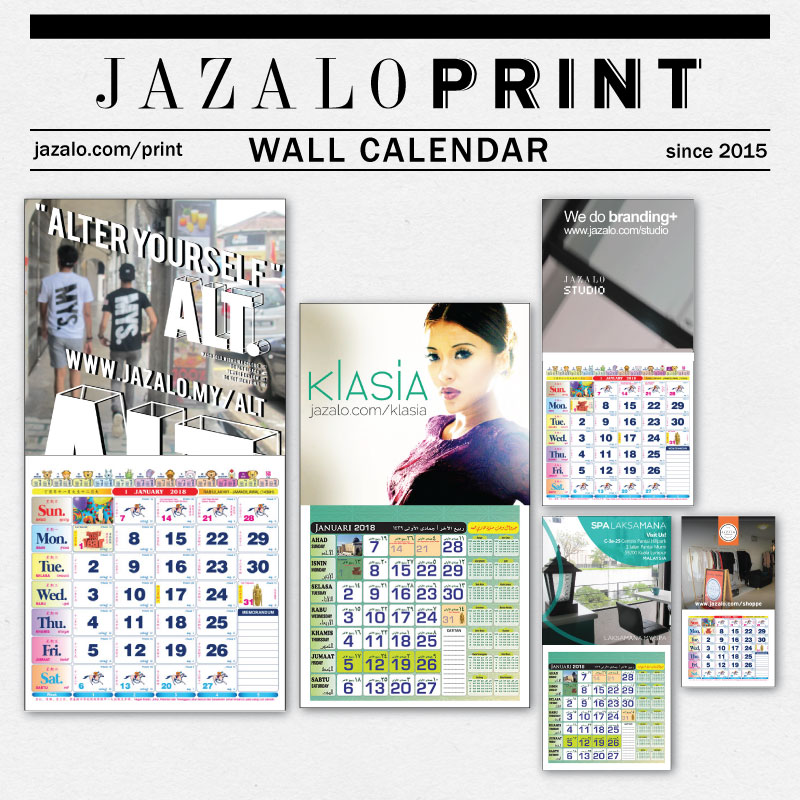 The era of smartphones and tablets has encouraged more people to type their agendas into an electronic device rather than to pull out a calendar made of ink and paper and scrawl plans for coffee appointments, networking events or cocktails in actual handwriting. Though we may use our personal devices to keep up with our personal lives, the wall calendar is still a useful tool in the business world. Not only do wall calendars provide a place to pencil in team meetings and other company activities, they can serve as successful marketing tools as well.
Consider Your Calendar
You may be questioning how the basic wall calendar could actually work as a marketing tool for your small business, instead of something trendier or flashier. Consider the following reasons that a wall calendar has appeal.
People tend to remember information more efficiently when they write it down. A wall calendar will give them that opportunity.
Calendars have more than one purpose, including checking the day's date and also counting the date down by marking big X on it.
Businesses still need items to hang on their blank walls, so why not a calendar?
Muslims pray 5 times a day and to catch the time, they may just refer the wall calendar (Islamic type)
How will you share your message on a calendar?
There are actually a few different ways to share your marketing message on a calendar – some are more straightforward than others.
Using artwork and photography that subtly drive home your marketing message.
Providing your business information on the calendar header, including your all-year promotion or coupon codes!
Don't forget to include your phone number or website too.
Create Your Calendar
Decide on your theme.
What does your business provide? This should be the main inspiration behind your calendar's theme for the header. Don't be afraid to get creative. Remember, the point of your calendar is not to inundate potential clients with advertisements but to give them a fun reminder of the connections your business shares with the community.
Decide what to include as your marketing tool.
Coupon Codes
Will you have coupons or special deals on your calendar for potential clients? If you feel that too many coupons or promotions might be hurtful to your business, try these ideas:
Offer a small incentive, such as 10 percent off for new clients only.
If your company is hosting or sponsoring an event during the year, offer the opportunity to attend free with a calendar coupon.
Offer the classic deal: Purchase one large item at full price and get a smaller item at a discount.
Eye-catching Artwork
We all know how a calendar of kittens makes us want to go to a shelter and pick out a new cat of our own. Make the same concept apply to your calendar. Pick 1 photo that fit your theme and business and will entice potential clients to want whatever your company has available.
Have your calendar professionally crafted.
Thanks to the many publishing programs out there, anyone can print out photos from the Internet or photo software and make a calendar right in the office. But your calendar will get more attention and credibility – thus, so will your business – if you have it put together professionally.
Most printing companies such as JAZALO Print, have special offers for business marketing material, so shop around to see what you find.
Distribute Your Calendar
Now that you have a calendar printed and tailored to deliver your company message, how will you spread the word? Distributing your calendar is just as important as creating it. If it falls into the right hands, it means new clients for your business.
Visit potential clients face-to-face and bring them a calendar. Turn it into an opportunity to introduce yourself.
Share calendars at networking gatherings.
Give away calendars at trade shows.
Hand out copies of the calendars to your employees to share with family and friends.
Wall calendars make useful marketing tools as well as offer the opportunity to be creative. Don't let the walls around your potential clients go bare when your business' message could be decorating the space.
Your own Wall Calendar
If you have idea to give out your own wall calendar for 2018, you may visit www.jazalo.com/print and order your own wall calendar to rock out your new year!